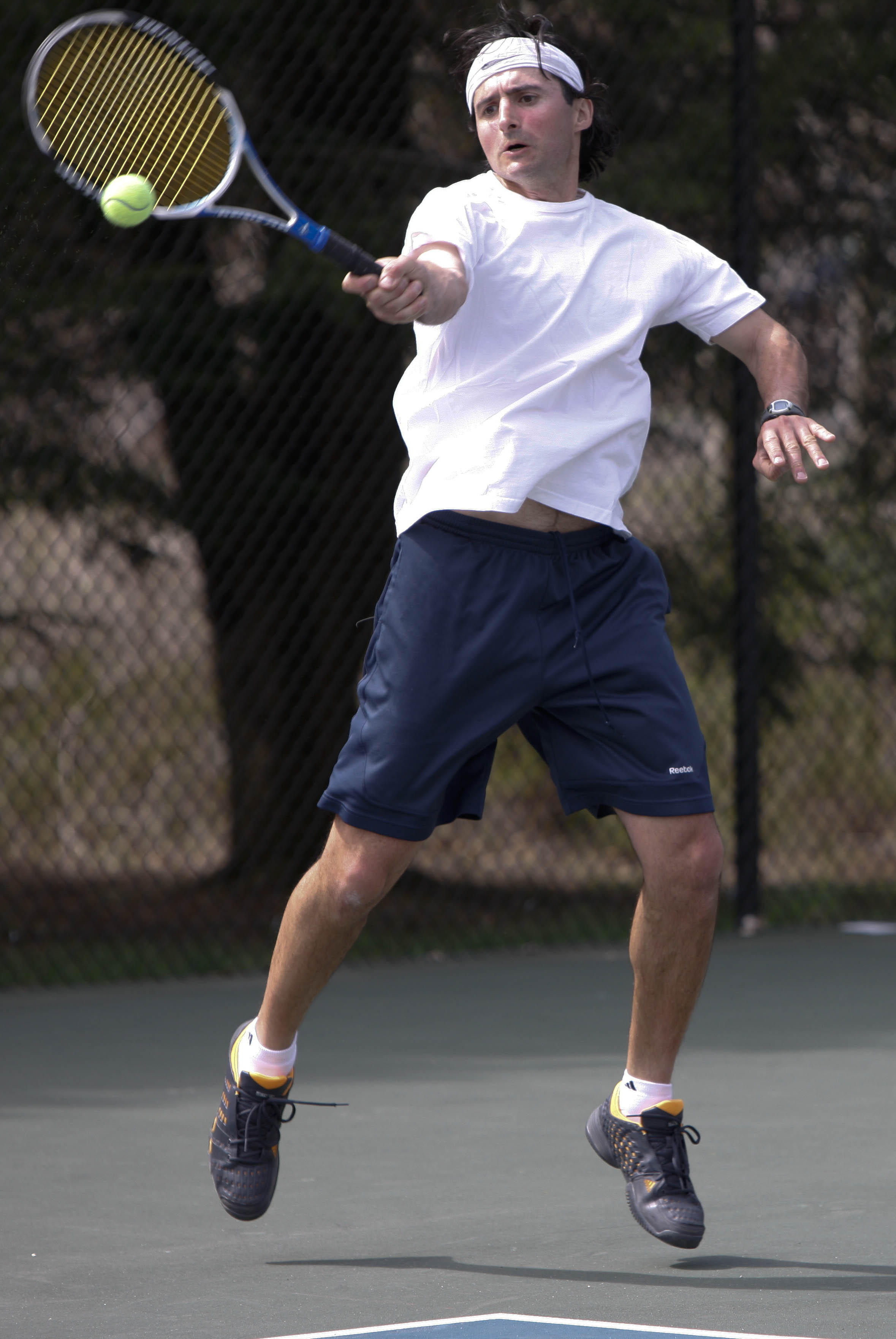 Imagine yourself on the singles court.....
"It's match time, and your forehand is very accurately placed
Your backhand .. has a lot of bite to it
You know what shot to hit and when to hit it !
Sounds crazy, or impossible?
... Not if you join the right program
Read below and get some serious practice that will grow your game !
Spring /Summer 2014-15
From the tennis court of Val Stoiana
To: All Tennis & Fitness Enthusiasts ( Adults & Juniors )
Welcome to TennisLadderMatch where you'll burn more calories (520) playing singles than doubles (350). Weather you're a junior or adult player, I'll do the set up work so you can focus on playing.

If you enjoy singles, but lack the time to find a local competitive game, I can help you !

This is the 4th year of the TLM , and my goal remains the same . To offer regular, competitive ,matches at a reasonable cost. Sign up and play singles on a regular basis. Move up or down the ladder based on your results. You'll be playing a match every 10 days , and can play more by challenging others as often as you like.

Some of the benefits include:

players screened to ensure level compatibility
season is from April 9th-Sept 5
end of season tournament in September
match times arranged between players
play locally location (15-30 minute drive)
match assignment is 1 match /10 days
challenge others anytime to play even more matches
10% of proceeds go to Youth & Family Services
rankings updated online every 10 days
cost $50 for whole season
$10 discount available when you sign up a new player
scores entered online
Hope you can join us !
Val Stoiana
PTR Certified Tennis Professional & Adviser
www.tennismadesimple.com
203 232 5337
Tennis Adviser
1) highest form of tennis professional
2) students are clients not customers
3) nurtures and protects tennis interests
TENNISLADDERMATCH PLAY OFF
all matches best of 3 sets when possible ( 10 point tiebreaker if you split)
Results: 1) Janet Zupkus 2) Julie Whitney 3) Dana Manning 4) Lisa Bigham 5)Deborah Muller 6) Alicia Evans 7) Fran Trelease 8)Cindy Turner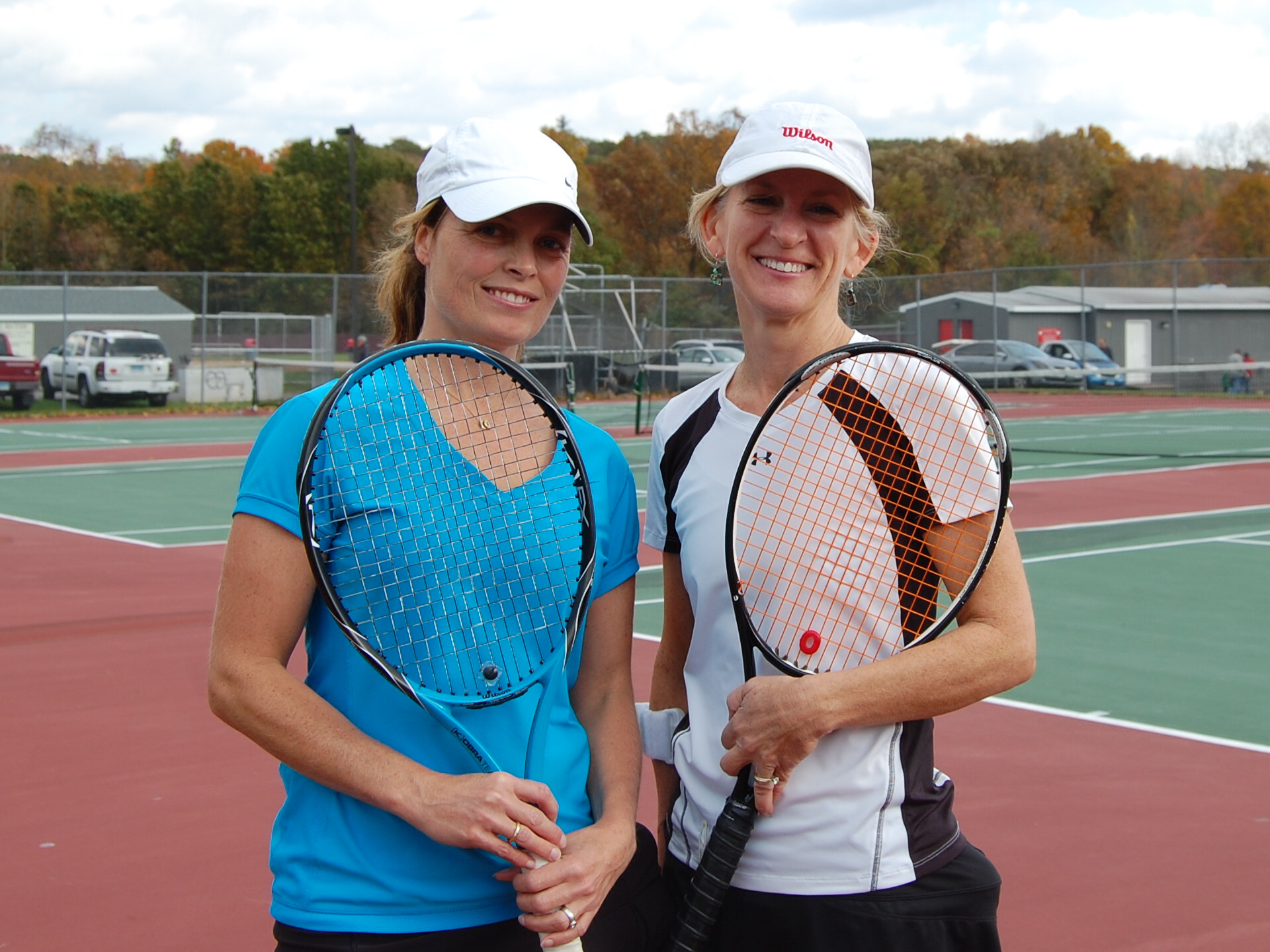 east side semifinals

Dana Manning

round 3 10/4-10/17

Lisa Bigham

Dana Manning 6-3, 6-1

3rd and 4th place
west side semifinals
Fran Trelease def

7th and 8th place

Fran Trelease

round 3 10/4-10/17

Cindy Turner
Deborah Muller def

5th and 6th place

Alicia Evans (def)

round 3 10/4-10/17

Deborah Muller

6-4,6-1

Alicia Evans

round 2 9/20-10/3

Fran Trelease

1)Dana Manning

round 1 9/6-9/19

2)Alicia Evans

Dana Manning

7-5, 3-0

round 2 9/20-10/3

Janet Zupkus

6-2 , 6-3

Janet Zupkus

6-4, 0-6, 10-7

round 3 10/4-10/17

Julie Whitney

6-1, 6-1

3)Fran Trelease

round 1 9/6-9/19

4)Janet Zupkus

Janet Zupkus 6-3, 6-4.

1st and 2nd place

Cindy Turner

round 2 9/20-10/3

Deborah Muller

5)Cindy Turner

round 1 9/6-9/19

6)Lisa Bigham

Lisa Bigham 6-4, 5-7 (10-5)

round 2 9/20-10/3

Julie Whitney

6-3, 6-3

7)Julie Whitney

round 1 9/6-9/19

8)Deborah Muller
Scroll down to see the 2009 ,2010 and 2011 ladders & the 2010 women's play off
2009 TENNISLADDERMATCH
WOMEN'S SINGLES RESULTS 9/8/2009

Pos Chg W-L PI Name

1 +8 5-1 0 Cristina Elias

2 -1 5-1 0 Kathy MacWilliams

3 -1 6-1 0 Julie Whitney

4 -1 4-5 0 Daniella Stahl

5 +7 7-1 0 Karen Montini

6 +1 7-2 0 Erika Parris

7 +12 7-1 0 Fran Trelease

8 +3 5-4 0 Helen Brickfield

9 +24 3-0 0 Lisa Daly

10 -2 4-3-1 0 Lisa Bigham

11 +16 4-5-1 0 Rachel Palumbo

12 -8 0-9 0 Chris Davis

13 -8 4-2 0 Diane Cassidy

14 +1 3-6 0 Deborah Muller

15 +1 4-5 0 Jackie Donnelly

16 -2 4-3-1 0 Amy Gulick

17 -7 3-4 0 Laura Daily

18 -12 0-5-1 0 Diane Stevens

19 +2 6-6 0 Donna Doyle

20 -7 1-4 0 Dasha Qazimi

21 -1 6-1 0 Sue Duval

22 +1 3-4 0 Susanne Lovig

23 +2 4-2 0 Lisa OBryan

24 -6 1-5 0 Carole Walters

25 -3 1-3 0 Lisa Mason

26 -2 5-2 0 Caryn Maclean

27 +5 1-5 0 Caryn Vincent

28 -2 3-3 0 Lisa Janco

29 -1 2-4 0 Molly Schleis

30 -1 2-4 0 Margie Smith

31 -1 2-3 0 Janice Brown

32 -1 1-4 0 Linda Westberg

MEN'S SINGLES RESULTS as of 9/8/09

Pos Chg W-L PI Name

1 0 8-0 0 Jon Norris

2 0 5-2 0 Joaquin Denoya

3 +8 6-2 0 Steve Bigham

4 0 2-3 0 Dave Chapdelaine

5 John Tepedino

6 Paul Felcher

7 0 4-4 0 Larry Washington

8 +1 3-3 0 Jim Cummings

10 -2 1-3-1 0 Ray Weitekamp

11 +9 4-0 0 Nicolas Stoiana

12 -2 0-6 0 RANDY MILLER

13 +8 3-4 0 Sean BURCH

14 -2 1-8 0 Curt Jones

15 -2 1-3-1 0 Barry Weston

17 -1 3-2 0 Wade Bonzon

18 +11 2-0 0 Peter O'Connell

19 -5 3-4 0 Paul Beauvais

20 -3 3-2 0 Gregg Bell

21 +2 5-2 0 David Montini

22 -7 5-4 0 Jeff OSullivan

23 -5 2-3 0 Phil Ruenhorst

24 -5 3-4 0 Jack Klein

25 -3 3-3 0 Matt Cleary

26 -2 1-3 0 John Delafield

27 -2 2-2 0 Chad Conway

28 -2 1-2 0 Cam Weston

29 -1 0-3-2 0 Steve Wuerth

2009 women's Matches

Singles - 36 players. Next issue: 4
[1] 04/28/2009 Lisa Janco d. Margie Smith 9-5
[1] 04/29/2009 Donna Doyle d. Jackie Donnelly 6-2
[1] 04/30/2009 Amy Gulick d. Kris Belmont 6-2,6-4
[1] 05/02/2009 Fran Trelease d. Caryn Maclean 6-2,6-2
[1] 05/02/2009 Lisa Bigham d. Daniella Stahl 10-7
[1] 05/03/2009 Erika Parris d. Fran Tepperman 10-3
[1] 05/03/2009 Lisa OBryan d. *Deleted* 6-3
[1] 05/08/2009 Laura Daily d. Dasha Qazimi 7-6,6-3
[1] 05/08/2009 Sue Duval d. Susanne Lovig 7-6 (6-4)
[1] 05/09/2009 Linda Westberg d. Caryn Vincent 8-4
[1] 05/11/2009 Molly Schleis d. Margie Smith 2 sets
[1] 05/11/2009 Karen Montini d. Deborah Muller 6-3
[1] 05/11/2009 Julie Whitney d. Chris Davis 6-2,6-1
[1] 05/12/2009 Erika Parris d. Amy Gulick 6-1,6-4
[1] 05/13/2009 Erika Parris d. Daniella Stahl 6-1,4-6,6-0
[1] 05/15/2009 Carole Walters d. Lisa Mason 8-4
[1] 05/15/2009 Kathy MacWilliams d. Marissa Cezari 6-1,6-1
[1] 05/17/2009 Diane Cassidy d. Diane Stevens 6-0
[3] 05/20/2009 Helen Brickfield d. Amy Gulick 7-5, 5-3
[3] 05/25/2009 Kathy MacWilliams d. Julie Whitney 6-4, 4-6, 6-4
[3] 05/26/2009 Daniella Stahl d. Helen Brickfield 6-4 0-6 7-0 tb
[3] 05/27/2009 Caryn Maclean d. Lisa Janco 6-1,6-2
[3] 05/28/2009 Lisa OBryan d. Molly Schleis 9-7
[3] 05/28/2009 Amy Gulick d. Deborah Muller 10-8
[3] 05/29/2009 Fran Trelease d. Donna Doyle 6-2
[3] 05/30/2009 Diane Cassidy d. Lisa Bigham 6-3
[3] 06/02/2009 Margie Smith d. Linda Westberg 12-6
[3] 06/02/2009 Kris Belmont d. Carole Walters 6-4,6-4
[3] 06/02/2009 Janice Brown d. Caryn Vincent 6-4
[3] 06/02/2009 Cristina Elias d. Erika Parris 7-5,6-2
[3] 06/04/2009 Laura Daily d. Fran Tepperman 7-6,7-6
[3] 06/04/2009 Kris Belmont d. Carole Walters 6-4
[3] 06/05/2009 Karen Montini d. Dasha Qazimi injury forfeit
[3] 06/06/2009 Helen Brickfield d. Rachel Palumbo 6-4,7-6 (10-4)
[3] 06/06/2009 Sue Duval d. Lisa Mason 5-1,4-2
[3] 06/07/2009 Jackie Donnelly d. Susanne Lovig 6-4
[3] 06/07/2009 Daniella Stahl d. Diane Stevens 5-1,6-0
[3] 06/07/2009 Marissa Cezari d. Chris Davis 6-2,6-1
[3] 06/08/2009 Fran Trelease d. Donna Doyle 6-2
[3] 06/14/2009 Rachel Palumbo d. Molly Schleis 6-4 / 6-5
[3] 06/14/2009 Helen Brickfield d. Karen Montini 6-1,4-6,Tie breaker 10-6
[3] 05/17/2009 Helen Brickfield d. Fran Tepperman default
[3] 06/15/2009 Lisa Bigham TIE Diane Stevens 7-5, 4-6 couldn't finish rain
[3] 06/16/2009 Margie Smith d. Caryn Vincent 9 - 3
[3] 06/17/2009 Daniella Stahl d. Amy Gulick 6-4 2-1
[3] 06/17/2009 Erika Parris d. Lisa Bigham 6-3, 6-4
[3] 06/20/2009 Jackie Donnelly d. Kris Belmont 6-4
[3] 06/19/2009 Julie Whitney d. Cristina Elias 6-1, 6-4
[3] 06/21/2009 Kathy MacWilliams d. Diane Cassidy 1-0
[3] 06/22/2009 Lisa Janco d. Janice Brown 8-5
[3] 06/23/2009 Erika Parris d. Laura Daily 6-0, 6-2
[3] 06/23/2009 Susanne Lovig d. Caryn Maclean 6-4
[3] 06/24/2009 Donna Doyle d. Lisa Mason 6-0 / 6-3
[3] 06/26/2009 Fran Trelease d. Sue Duval 6-2
[3] 06/28/2009 Daniella Stahl d. Chris Davis 6-0 6-1
[3] 06/29/2009 Lisa OBryan d. Linda Westberg 8-2
[4] 06/26/2009 Deborah Muller d. Carole Walters Forfeit
[4] 07/06/2009 Erika Parris d. Chris Davis 6-4, 6-3
[4] 07/07/2009 Susanne Lovig d. Margie Smith 6-2
[4] 07/08/2009 Karen Montini d. Jackie Donnelly Forfeit
[4] 07/09/2009 Caryn Maclean d. Janice Brown 6-4, 4-6, 2-0
[4] 07/10/2009 Lisa Janco d. Linda Westberg 9-8
[4] 07/10/2009 Cristina Elias d. Deborah Muller 6-1,6-2
[4] 07/11/2009 Sue Duval d. Lisa OBryan 6-3
[4] 07/12/2009 Deborah Muller d. Donna Doyle 6-2,6-1
[4] 07/13/2009 Kathy MacWilliams d. Chris Davis 6-0 4-6 6-0
[4] 07/13/2009 Laura Daily d. Diane Stevens 6-4,6-2
[4] 07/14/2009 Lisa Daly d. Helen Brickfield 6-1,6-1
[4] 07/14/2009 Rachel Palumbo d. Donna Doyle 6-3 / 6-2
[4] 07/10/2009 Fran Trelease d. Rachel Palumbo 6-7 (5-7) , 6-1, (7-5. )
[4] 07/17/2009 Julie Whitney d. Diane Cassidy 6-2
[4] 07/18/2009 Donna Doyle d. Jackie Donnelly 6-2, 6-2
[4] 07/19/2009 Cristina Elias d. Daniella Stahl 6-4,5-7,7-3(tie break)
[4] 07/24/2009 Karen Montini d. Jackie Donnelly 6-3
[4] 07/24/2009 Lisa Bigham d. Dasha Qazimi 6-1,6-1
[4] 07/18/2009 Amy Gulick d. Carole Walters 6-0; 6-0
[4] 07/26/2009 Molly Schleis d. Caryn Vincent 7-3
[4] 07/28/2009 Lisa Daly d. Donna Doyle 6-1, 6-1
[4] 07/28/2009 Karen Montini d. Diane Stevens 6-1, 6-1
[4] 08/01/2009 Helen Brickfield d. Chris Davis 6-4,6-3
[4] 08/03/2009 Caryn Maclean d. Lisa Janco 10-6
[4] 08/03/2009 Karen Montini d. Chris Davis 6-0, 6-0
[4] 08/05/2009 Caryn Maclean d. Caryn Vincent 6-4
[4] 08/08/2009 Cristina Elias d. Kathy MacWilliams 2-6,6-4,1-0(8-6) Tie break
[4] 08/08/2009 Jackie Donnelly d. Diane Stevens 10-9
[4] 08/10/2009 Sue Duval d. Donna Doyle 7-5
[4] 08/11/2009 Lisa Bigham d. Deborah Muller 6-2, 7-5
[4] 08/11/2009 Susanne Lovig d. Kris Belmont 6-2
[4] 08/13/2009 Fran Trelease d. Deborah Muller 6-4
[4] 08/14/2009 Sue Duval d. Margie Smith 6-2
[4] 08/14/2009 Fran Trelease d. Helen Brickfield 6-4,3-3
[4] 08/15/2009 Lisa Bigham d. Chris Davis 6-2,6-0
[4] 08/16/2009 Julie Whitney d. Daniella Stahl 6-6, 7-2 (tie break)
[4] 08/17/2009 Janice Brown d. Linda Westberg 4-3
[4] 08/16/2009 Amy Gulick TIE Rachel Palumbo 1/1
[4] 08/17/2009 Lisa Mason d. Molly Schleis Molly forfeited due to vacation
[4] 08/18/2009 Rachel Palumbo d. Deborah Muller 6/3 2/6 tie braker 10/5
[4] 08/19/2009 Diane Cassidy d. Laura Daily 6-3
[4] 08/20/2009 Lisa OBryan d. Carole Walters forfeit

2009 men's matches

Singles - 30 players. Next issue: 3
[1] 05/02/2009 Paul Felcher d. Larry Washington 7-5,6-0
[1] 04/28/2009 Matt Cleary d. *Deleted* 6-1,6-1
[2] 04/28/2009 Ray Weitekamp d. RANDY MILLER 6-4
[2] 05/03/2009 Steve Bigham d. John Tepedino 6-1, 6-4
[2] 05/04/2009 Matt Franjola d. Curt Jones 6-3, 6-3
[2] 05/03/2009 David Montini d. Mark Drendel 6-2,6-4
[2] 05/05/2009 Matt Cleary d. David Montini 7-6 (7-5)
[2] 05/06/2009 Jeff OSullivan d. Sean BURCH 6-1,6-0
[2] 05/10/2009 Barry Weston d. Paul Beauvais 6-3, 6-2, 6-3
[2] 05/10/2009 Chad Conway d. Cam Weston 6-3 6-1
[2] 05/08/2009 Jeff OSullivan d. Jack Klein 6-1,7-6 (7-5)
[2] 05/11/2009 Sean BURCH d. John Delafield 6-2 6-1
[2] 05/10/2009 Jon Norris d. Joaquin Denoya 6-0, 6-4
[2] 05/03/2009 Gregg Bell d. Phil Ruenhorst 6-3 - 5-4
[2] 05/13/2009 Jack Klein d. Sean BURCH 2-6, 6-1, 6-1
[2] 05/14/2009 Phil Ruenhorst d. Jack Klein 4-6, 6-0, 6-1
[2] 05/15/2009 Jeff OSullivan d. Curt Jones 6-2, 7-5
[2] 05/13/2009 Larry Washington d. RANDY MILLER 6-1,6-1
[2] 05/16/2009 Jim Cummings d. Barry Weston 6-2,6-2
[2] 05/16/2009 Paul Beauvais d. Curt Jones 6-2, 6-2
[2] 05/16/2009 Dave Chapdelaine d. Paul Felcher 6-3 6-7 (7-5) 6-0
[2] 05/26/2009 Jim Cummings d. RANDY MILLER 6-2 5-2 (rain shortened)
[2] 05/27/2009 Matt Franjola d. Jeff OSullivan 6-3, 6-3
[2] 05/23/2009 Gregg Bell d. Curt Jones 6-4,6-1
[2] 05/29/2009 Phil Ruenhorst d. Sean BURCH 6-1,6-2
[2] 05/31/2009 Mark Drendel TIE Steve Wuerth 9-7, 6-4
[2] 06/01/2009 John Tepedino d. Paul Beauvais 6-3,6-1
[2] 06/02/2009 Jon Norris d. Joaquin Denoya 5-7, 6-1, 7-5
[2] 06/02/2009 Matt Franjola d. RANDY MILLER 6-2 6-3
[2] 06/03/2009 Larry Washington d. Ray Weitekamp 6-3, 6-3
[2] 06/02/2009 Matt Cleary d. John Delafield 6-4
[2] 06/03/2009 Steve Bigham d. Barry Weston 6-3,6-0
[2] 06/04/2009 Wade Bonzon d. Jack Klein 6-4 7-5
[2] 05/31/2009 Mark Drendel TIE Steve Wuerth 7-9, 4-6
[2] 06/06/2009 Nicolas Stoiana d. Chad Conway 6-2,6-1
[2] 06/07/2009 Jeff OSullivan d. Curt Jones 7-5, 2-6, 7-5
[2] 06/07/2009 David Montini d. Cam Weston 6-4, 6-0
[2] 06/04/2009 Matt Franjola d. Curt Jones 6-4, 6-2
[2] 06/07/2009 Jon Norris d. Dave Chapdelaine 5-7, 6-4, retired
[2] 06/10/2009 Jeff OSullivan d. Jack Klein 6-3, 6-2
[2] 06/13/2009 Steve Bigham d. Jeff OSullivan 6-1,6-0
[2] 06/16/2009 David Montini d. John Delafield 6-4,6-4
[2] 06/17/2009 Joaquin Denoya d. Jim Cummings 6-1, 6-1
[2] 06/19/2009 Jack Klein d. Matt Cleary 6-4 , 6-0
[2] 06/20/2009 Jon Norris d. Larry Washington 6-0,6-0
[2] 06/25/2009 Paul Beauvais d. Phil Ruenhorst 6-4, 6-2
[2] 06/25/2009 John Tepedino d. RANDY MILLER 6-2
[2] 06/26/2009 Matt Franjola d. Larry Washington 6-0, 3-6, 4-4 (7-3)
[2] 06/21/2009 Nicolas Stoiana d. Sean BURCH 6-4, 2-5
[2] 06/28/2009 Paul Felcher d. Matt Franjola 6-1, 6-1
[2] 06/30/2009 Cam Weston d. Steve Wuerth 6-0, 6-2
[2] 06/30/2009 Curt Jones d. Barry Weston (forfeit)
[2] 06/30/2009 John Tepedino d. Dave Chapdelaine (injury forfeit)
[2] 06/30/2009 Chad Conway d. Mark Drendel 6-3, 6-3
[2] 06/30/2009 Wade Bonzon d. Gregg Bell 6-2, 5-7 (10-8)
[3] 06/27/2009 Steve Bigham d. Ray Weitekamp 6-4,6-2
[3] 07/03/2009 Joaquin Denoya d. Paul Felcher 6-4, 6-4
[3] 07/07/2009 Jack Klein d. David Montini 6-5 , 6-2
[3] 07/05/2009 Jon Norris d. Paul Felcher 6-4,6-3
[3] 07/08/2009 Joaquin Denoya d. Larry Washington 6-2, 6-4
[3] 07/11/2009 Wade Bonzon d. Paul Beauvais 6-2, 6-4
[3] 07/14/2009 John Delafield d. Steve Wuerth 6-4,6-2
[3] 07/14/2009 Jim Cummings d. Matt Franjola 6-3 7-6 (5)
[3] 07/18/2009 Sean BURCH d. Chad Conway 6-3 c 6-1s 6-3 s
[3] 07/19/2009 Steve Bigham d. John Tepedino 6-4,6-2
[3] 07/20/2009 Jon Norris d. Paul Felcher 6-1,5-7,6-4
[3] 07/20/2009 Peter O'Connell d. Matt Cleary 6-1, 6-2
[3] 07/26/2009 Jill Ross d. Phil Ruenhorst 6-3, 6-3
[3] 07/20/2009 Nicolas Stoiana d. Curt Jones 7-6 (6-4)
[3] 07/20/2009 Barry Weston TIE Ray Weitekamp 7-6 , 3-6
[3] 07/20/2009 Gregg Bell d. Jeff OSullivan 7-6 (7-3), 6-1
[3] 08/05/2009 Sean BURCH d. Curt Jones 6-4
[3] 08/06/2009 David Montini d. Steve Wuerth 6-3,6-1
[3] 08/07/2009 John Tepedino d. Matt Franjola 6-1,2-6
[3] 08/09/2009 Paul Beauvais d. Gregg Bell 7-6, 6-4
[3] 08/10/2009 Nicolas Stoiana d. RANDY MILLER 6-2
[3] 08/16/2009 David Montini d. Jeff OSullivan 7-6 (TB 4-3 Darkness)
[3] 08/15/2009 Jon Norris d. Steve Bigham 6-3,6-3
[3] 08/15/2009 Larry Washington d. Wade Bonzon 6-2, 6-4
[3] 08/20/2009 Dave Chapdelaine d. Jim Cummings 6-1, 6-2
[3] 08/24/2009 Joaquin Denoya d. Steve Bigham 6-3, 6-2
[3] 08/25/2009 Joaquin Denoya d. Ray Weitekamp 6-3, 6-0
[3] 08/25/2009 Jill Ross d. Matt Cleary 6-0, 6-0
[3] 08/30/2009 Jill Ross d. Wade Bonzon 6-0, 6-1
[3] 09/06/2009 Larry Washington d. Jim Cummings 6-3, 6-2
[3] 09/03/2009 Jon Norris d. Paul Felcher 6-4, 6-0
[3] 09/06/2009 Steve Bigham d. Dave Chapdelaine 0-6,6-3,6-4
[3] 09/06/2009 Peter O'Connell d. Paul Beauvais 6-1,6-1


2010 TennisLadderMAtch
Challenge Ladder Report
Issue #4 PLUS -- 28 members -- 9/19/2010
Valid challenge range: 8 positions

Pos Chg W-L PI Name Phone1 Phone2 E-Mail
1 +10 8-1 0 Dana Manning
2 +1 6-3 0 Deborah Muller
3 +7 6-3 0 Alicia Evans
4 +23 4-2 0 Julie Whitney
5 -4 5-4 0 Fran Trelease
6 -4 6-2 0 Lisa Bigham
7 0 5-2 0 Janet Zupkus
8 +20 3-0 0 Helen Brickfield
9 -5 2-7 0 Kim Bandak
10 +2 5-3 0 Kate Metcalf
11 +12 4-4 0 Cindy Turner
12 -7 1-7 0 Dasha Qazimi
13 +5 6-2 0 Susan Danielowski
14 +5 6-2 0 Barbara Ungeheuer
15 +6 6-3 0 Roz Ross
16 -7 2-6 0 Caryn Mclean
17 -9 4-3 0 Donna Doyle
18 -12 2-7 0 Laura Daily
19 -3 4-3 0 Judith Friedman
20 0 5-1 0 Allison Tainter
21 -4 1-5 0 Molly Schleis
22 +2 1-4 0 Trish Brink
23 -9 2-5 0 Margie Smith
24 -9 0-5 0 Caryn Vincent
25 0 3-4 0 Jan Wildman
26 -13 2-5 0 Linda Palmer
27 -5 0-3 0 Heather Traulson
28 -2 1-3 0 Rachael Stietzel

Challenge Ladder Report
Issue #5 PLUS -- 31 members -- 9/23/2010
Valid challenge range: 7 positions

Pos Chg W-L PI Name Phone1 Phone2 E-Mail
1 0 6-0 0 Owen Curtin
2 0 7-1 0 Jon Norris
3 0 4-2 0 Steve Bigham
4 0 7-3 0 John Scheuermann
5 0 8-2 0 Ira Stone
6 +5 6-2 0 John Swain
7 -1 2-5 0 Larry Washington
8 0 8-1 0 Nicolas Stoiana
9 +7 5-2 0 Rich Terrasi
10 -3 3-7 0 Tim Skinski
11 -2 5-3 0 Jack Ellis
12 -2 5-5 0 Ray Weitekamp
13 -1 2-2 0 Bill Platt
14 -1 3-8 0 Jeff OSullivan
15 +2 3-5 0 Paul Beauvais
16 +9 5-3 0 Joe Godfrey
17 -3 2-4 0 Michael Samoska
18 -3 1-4 0 Sean Burch
19 -1 3-4 0 Jared Unterborn
20 +6 4-4 0 David Hill
21 -2 1-5 0 Steve Wuerth
22 -2 4-4 0 Lionel Lim
23 -2 2-7 0 Ron Eiseman
24 -2 1-2 0 Forrest Haskins
25 -2 2-2 0 James Pfadenhauer
26 -2 0-8 0 Matt Cleary
27 0 1-3 1 Jack Klein
28 0 0-1 1 Dave Chapdelaine
29 0 0-0 4 Paul Felcher
30 0 0-1 1 Andrew Stietzel
31 0 0-0 4 Rod Taylor

RESULTS
05/01/10 Janet Zupkus (19) d. Heather Traulson (16) 6-0 6-1
05/04/10 Susan Danielowski (23) d. Rachael Stietzel (28) 6 to 1
05/04/10 Roz Ross (22) d. *Deleted* (27) 6-0 and 6-1
05/06/10 Margie Smith (11) d. Molly Schleis (12) 6 - 3
05/07/10 Jan Wildman (24) d. Cindy Turner (25) 6-4
05/07/10 Helen Brickfield (3) d. Julie Whitney (1) forfeit, injury
05/07/10 Kim Bandak (13) d. Caryn Mclean (9) 6-2
05/07/10 Fran Trelease (3) d. Lisa Bigham (4) 7-6 (6-2), 6-4
05/07/10 Alicia Evans (14) d. Caryn Vincent (11) 6-0,6-0
05/10/10 Kate Metcalf (20) d. Linda Palmer (15)
05/11/10 Deborah Muller (5) d. Laura Daily (6) 6-1, 6-0
05/12/10 Barbara Ungeheuer (26) d. Trish Brink (21) 6:3 / 6:3
05/15/10 Dana Manning (20) d. Judith Friedman (19) 4-6, 6-1, 6-2
05/22/10 Dana Manning (19) d. Kate Metcalf (14) 6-2 6-1
05/23/10 Judith Friedman (19) d. Molly Schleis (13) 6-0, 6-1
05/23/10 Allison Tainter (27) d. Roz Ross (22) 6-5, 6-3
05/24/10 Kim Bandak (7) d. Laura Daily (4) 6-2
05/24/10 Donna Doyle (6) d. Dasha Qazimi (7) 6-4, 7-6 (8-7)
05/25/10 Cindy Turner (25) d. Trish Brink (20) 8-5
05/25/10 Linda Palmer (16) d. Caryn Vincent (10) 6-2,6-0
05/25/10 Donna Doyle (6) d. Dasha Qazimi (7) 5-7, 6-3, 10-2
05/25/10 Barbara Ungeheuer (19) d. Jan Wildman (25) 6:3/3:6/7:4
05/25/10 Janet Zupkus (17) d. Alicia Evans (9) 6-2, 6-1
05/26/10 Susan Danielowski (24) d. Heather Traulson (18) 6-1
05/27/10 Lisa Bigham (2) d. Deborah Muller (3) 6-4,6-3
05/29/10 Caryn Mclean (8) d. Margie Smith (13) 6-1
06/03/10 Roz Ross (25) d. Rachael Stietzel (26) 6-3, 3-2
06/06/10 Roz Ross (25) d. Cindy Turner (22) 6-2, 1-6, 7-5
06/06/10 Margie Smith (15) d. Caryn Vincent (14) 6-2
06/08/10 Dana Manning (11) d. Susan Danielowski (18) 6-2, 6-3
06/08/10 Dasha Qazimi (7) d. Laura Daily (5) 6-3
06/08/10 Fran Trelease (1) d. Deborah Muller (3) 4-6, 5-5, (6-3)
06/09/10 Lisa Bigham (2) d. Kim Bandak (4) 6-4
06/09/10 Judith Friedman (16) d. Barbara Ungeheuer (20) 6-3, 7-5
06/11/10 Janet Zupkus (9) d. Donna Doyle (7) 6-2, 6-0
06/10/10 Alicia Evans (10) d. Linda Palmer (13) 6-3,6-2
06/14/10 Kate Metcalf (12) d. Molly Schleis (17)
06/14/10 Fran Trelease (1) d. Kim Bandak (4) 5-1
06/14/10 Laura Daily (6) d. Caryn Mclean (9) 6-4, 6-2
06/14/10 Allison Tainter (25) d. Jan Wildman (21) default
06/14/10 Trish Brink (25) d. Rachael Stietzel (26) 8-2
06/10/10 Alicia Evans (10) d. Linda Palmer (13) 6-3,6-2
06/23/10 Molly Schleis (17) d. Caryn Vincent (15) 6-0, 2-1
06/25/10 Barbara Ungeheuer (19) d. Cindy Turner (23) 8:1
06/25/10 Donna Doyle (8) d. Caryn Mclean (9) 7-6, 6-4
06/26/10 Judith Friedman (17) d. Kate Metcalf (12) 6-2, 6-2
06/29/10 Lisa Bigham (2) d. Laura Daily (6) 6-3, 6-0
06/30/10 Deborah Muller (3) d. Kim Bandak (4) 6-0
06/30/10 Allison Tainter (20) d. Trish Brink (24) 8-4
06/30/10 Fran Trelease (1) d. Dasha Qazimi (5) 6-1, 6-2
07/01/10 Janet Zupkus (7) d. Dana Manning (11) 6-3, 6-3
07/01/10 Susan Danielowski (18) d. Roz Ross (21) 6-1, 6-2
07/02/10 Alicia Evans (10) d. Margie Smith (15) 10 1
07/02/10 Julie Whitney (27) d. Judith Friedman (12) 7-5, 1-6, 9-7 tb
07/05/10 Rachael Stietzel (27) d. Jan Wildman (26) default
07/08/10 Lisa Bigham (2) d. Donna Doyle (8) 6-3
07/11/10 Dana Manning (11) d. Julie Whitney (12) 6-3, 6-0
07/12/10 Cindy Turner (22) d. Caryn Vincent (17) 6-1, 6-1
07/13/10 Barbara Ungeheuer (20) d. Margie Smith (15) 6:2 / 6:1
07/15/10 Kate Metcalf (14) d. Allison Tainter (21)
07/15/10 Caryn Mclean (9) d. Laura Daily (6) 3-6, 6-4, (10-6)
07/15/10 Alicia Evans (10) d. Kim Bandak (4) 7-5
07/15/10 Deborah Muller (3) d. Dasha Qazimi (6) 6-2
07/16/10 Janet Zupkus (9) d. Fran Trelease (1) 8-7
07/20/10 Roz Ross (22) d. Trish Brink (24) 6-1, 6-2
07/22/10 Judith Friedman (13) d. Susan Danielowski (20) 6-3, 1-6, (2-7)
07/28/10 Lisa Bigham (3) d. Caryn Mclean (8) 6-2, 6-2
07/30/10 Barbara Ungeheuer (15) d. Roz Ross (22) 6:0 / 6:2
07/30/10 Alicia Evans (5) d. Fran Trelease (2) 6-3, 2-6, (6-4)
07/28/10 Linda Palmer (23) d. Heather Traulson (25) 6-3,6-4
07/30/10 Susan Danielowski (20) d. Jan Wildman (27) 6-6 (7-3), 7-5
07/30/10 Donna Doyle (10) d. Laura Daily (9) 6-3
07/30/10 Allison Tainter (21) d. Margie Smith (16) 8-1
07/31/10 Julie Whitney (12) d. Dasha Qazimi (7) 6-0, 6-1
08/02/10 Dana Manning (12) d. Kim Bandak (6) 6-3
08/03/10 Deborah Muller (5) d. Janet Zupkus (1) forfeit
08/04/10 Helen Brickfield (26) d. Judith Friedman (13) default-sick
08/04/10 Kate Metcalf (15) d. Cindy Turner (20) 8-5
08/07/10 Roz Ross (22) d. Molly Schleis (18) 6-4, 6-1
08/09/10 Susan Danielowski (22) d. Donna Doyle (11) 6-0, 6-0
08/12/10 Barbara Ungeheuer (17) d. Caryn Mclean (10) 6:0/ 6:3
08/13/10 Helen Brickfield (15) d. Kim Bandak (7) 6-4
08/13/10 Cindy Turner (22) d. Laura Daily (15) 8-6
08/16/10 Julie Whitney (9) d. Fran Trelease (3) 6-4, 6-4
08/17/10 Deborah Muller (1) d. Alicia Evans (2) 6-4
08/17/10 Kate Metcalf (18) d. Dasha Qazimi (10) 8-1
08/17/10 Dana Manning (7) d. Lisa Bigham (5) 6-4, 6-3
08/17/10 Jan Wildman (26) d. Linda Palmer (24) 6-2, 6-1
08/14/10 Trish Brink (27) d. Margie Smith (22) 6-3,6-2
08/26/10 Susan Danielowski (14) d. Barbara Ungeheuer (12) 6-0, 6-0
08/26/10 Deborah Muller (1) d. Fran Trelease (4) 2-6, 6-2, tb 6-4
08/28/10 Roz Ross (20) d. Caryn Mclean (14) 6-3, 4-6, 10-6
08/28/10 Dana Manning (5) d. Deborah Muller (1) 7-6, 11-9
08/30/10 Lisa Bigham (6) d. Kate Metcalf (10) 6-1, 6-4
08/30/10 Julie Whitney (4) d. Janet Zupkus (7) 2-6, 6-2, 12-10 tb
08/30/10 Laura Daily (18) d. Molly Schleis (21) 6-1,7-5
09/01/10 Allison Tainter (20) d. Linda Palmer (26) 7-5, 6-2
09/01/10 Cindy Turner (17) d. Dasha Qazimi (11) 8-4
09/05/10 Fran Trelease (5) d. Kim Bandak (9) default
09/18/10 Dana Manning (1) d. Alicia Evans (3) 7-5, 3-0
RESULTS
05/05/10 Rich Terrasi (17) d. Jack Klein (10) 6-1, 6-0
05/06/10 John Swain (24) d. John Scheuermann (18) 7-5, 6-2
05/06/10 Joe Godfrey (21) d. Ron Eiseman (17) 6-0, 6-2
05/02/10 Nicolas Stoiana (22) d. Lionel Lim (15) 6-2
05/09/10 Ira Stone (23) d. Jared Unterborn (26) 6 - 2, 6 - 2
05/09/10 Tim Skinski (14) d. Jeff OSullivan (9) 6-1,6-1
05/09/10 Ray Weitekamp (6) d. Sean Burch (7) 6-4, 6-3
05/11/10 Larry Washington (5) d. Paul Beauvais (8) 6-3, 6-0
05/11/10 David Hill (24) d. Andrew Stietzel (25) 7-6
05/16/10 Rich Terrasi (11) d. Ray Weitekamp (6) 2-6, 6-4, 7-2 (TB)
05/16/10 Jon Norris (1) d. Dave Chapdelaine (3) 6-3,6-1
05/23/10 Ira Stone (23) d. Ron Eiseman (19) 6-2 6-1
05/23/10 Larry Washington (5) d. Rich Terrasi (6) 6-3, 6-1
05/23/10 Ray Weitekamp (7) d. Paul Beauvais (9) 6-2, 6-4
05/24/10 Jon Norris (1) d. Steve Bigham (2) 6-2, 6-1
05/27/10 John Scheuermann (22) d. Joe Godfrey (18) 6-1, 6-3
05/27/10 Sean Burch (8) d. Jack Klein (12) 6-2 6-2
05/27/10 Ron Eiseman (21) d. Matt Cleary (13) 6-4
05/26/10 Owen Curtin (18) d. Tim Skinski (10) 6-1,6-1
05/30/10 Nicolas Stoiana (16) d. Jeff OSullivan (11) 6-3,6-5
05/24/10 Jack Ellis (25) d. David Hill (23) 6-3, 6-1
05/30/10 Ira Stone (20) d. David Hill (24)
05/29/10 Owen Curtin (9) d. John Swain (21) 7-5, 6-3
05/29/10 Owen Curtin (9) d. John Swain (21) 7-5, 6-3
05/29/10 Lionel Lim (17) d. Steve Wuerth (16) 6-2
05/30/10 Tim Skinski (10) d. Ray Weitekamp (6) 6-2, 6-2
06/05/10 Tim Skinski (6) d. Ron Eiseman (14) 6-4, 6-2
06/07/10 John Scheuermann (18) d. Jack Ellis (22) 6-4,6-4
06/09/10 John Scheuermann (18) d. Jeff OSullivan (12) 6-2,6-2
06/08/10 Jon Norris (1) d. Larry Washington (4) 6-0, 6-1
06/11/10 David Hill (23) d. Michael Samoska (25) 6-2, 3-6, 6-4
06/13/10 Ray Weitekamp (7) d. Jeff OSullivan (13) 6-2, 6-4
06/13/10 Nicolas Stoiana (11) d. Sean Burch (8) 6-0, 6-3
06/15/10 John Swain (21) d. Lionel Lim (17) 6-0
06/15/10 Jack Klein (14) d. Matt Cleary (16) 6-4
06/15/10 Joe Godfrey (20) d. Jared Unterborn (24) 6-3, 6-0
06/16/10 Ira Stone (21) d. Steve Wuerth (19) 6-1 6-1
06/15/10 Nicolas Stoiana (8) d. Paul Beauvais (10) 7-6 (7-4)
06/23/10 Ira Stone (18) d. Jeff OSullivan (12) 6-0 6-1
06/25/10 John Scheuermann (11) d. Sean Burch (7) 6-1;6-1
06/26/10 Jared Unterborn (23) d. Lionel Lim (18) 6-4
06/25/10 Jack Ellis (22) d. Michael Samoska (24) 6-2, 6-1
06/25/10 Steve Wuerth (20) d. Matt Cleary (16) 6-3, 3-4
06/30/10 Ira Stone (12) d. Forrest Haskins (25) 6-3 6-3
06/30/10 Jack Ellis (22) d. Ron Eiseman (15) 6-0, 6-0
07/01/10 Joe Godfrey (22) d. David Hill (23) 6-4, 6-3
07/02/10 Jeff OSullivan (13) d. Paul Beauvais (10) 7-5, 3-6, 8-6 (TB)
07/01/10 Steve Bigham (2) d. Ray Weitekamp (5) 6-2 7-5
07/05/10 Bill Platt (26) d. Jack Klein (14) 6-4
07/06/10 Nicolas Stoiana (6) d. Rich Terrasi (9) 6-4, 2-6, (7-3) t/b
06/27/10 John Swain (20) d. Ron Eiseman (17) 6-0, 6-1
07/07/10 Jon Norris (1) d. Tim Skinski (4) 6-0, 6-1
07/07/10 Owen Curtin (12) d. Larry Washington (3) 6-1,6-4
07/08/10 Jared Unterborn (21) d. Lionel Lim (22) 7-6 (6-2TB)
07/12/10 Michael Samoska (25) d. Steve Wuerth (19) 6-1,6-1
07/14/10 John Scheuermann (8) d. Larry Washington (4) 6-3,6-4
07/15/10 John Scheuermann (8) d. Tim Skinski (5) 6-4,6-4
07/15/10 Nicolas Stoiana (7) d. Ray Weitekamp (6) 6-2, 4-6, 7-5
07/16/10 Lionel Lim (22) d. Matt Cleary (20) 6-2
07/17/10 Jack Ellis (16) d. Joe Godfrey (23) 2-6, 6-3; TB (7-5)
07/18/10 Steve Bigham (2) d. Tim Skinski (5) 6-0, 6-2
07/18/10 Paul Beauvais (12) d. Bill Platt (14) 6-4, 7-6 (5)
07/18/10 Ira Stone (13) d. Jeff OSullivan (11) 6-2, 6-2
07/20/10 James Pfadenhauer (27) d. Matt Cleary (20) 6-3
07/20/10 Owen Curtin (3) d. Jon Norris (1) 6-1, 6-3
07/21/10 John Swain (16) d. Ira Stone (9) 6-3,6-2
07/25/10 Michael Samoska (17) d. Sean Burch (12) 4-6, 6-1, 6-0
07/25/10 Rich Terrasi (14) d. Paul Beauvais (15) 5-7, 6-3, 9-7 (Tie
Break)
07/27/10 Lionel Lim (19) d. Ron Eiseman (20) 6-1, 6-3
07/28/10 John Swain (9) d. Joe Godfrey (24) 8-3
07/28/10 Ira Stone (10) d. Larry Washington (5) 6-3 7-5
07/28/10 Jon Norris (2) d. John Scheuermann (4) 6-2,6-1
07/29/10 Jared Unterborn (23) d. Steve Wuerth (18) 6-0 6-2
08/02/10 Bill Platt (16) d. Jeff OSullivan (11) 6-3 5-7 7-5
08/03/10 Jack Ellis (17) d. Ray Weitekamp (9) 6-3, 6-2
08/01/10 Forrest Haskins (26) d. James Pfadenhauer (22) 7-6, 6-3
08/01/10 David Hill (26) d. Matt Cleary (24) default
08/01/10 Owen Curtin (1) d. Steve Bigham (3) 6-0, 6-3
08/01/10 Nicolas Stoiana (8) d. Tim Skinski (7) default
08/08/10 Rich Terrasi (16) d. Jeff OSullivan (13) 6-3, 6-4
08/08/10 Paul Beauvais (17) d. Michael Samoska (15) 6-3, 6-2
08/13/10 Steve Bigham (3) d. John Scheuermann (4) 3-6,7-5,6-2
08/12/10 David Hill (24) d. Steve Wuerth (19) 6-0, 2-0 (withdrew)
08/12/10 Ron Eiseman (22) d. Matt Cleary (25) 7-5
08/12/10 Ray Weitekamp (10) d. Bill Platt (12) 6-3 7-5
08/15/10 Jon Norris (2) d. Jack Ellis (9) 6-7, 6-1; 12-10 (T/B)
08/12/10 Nicolas Stoiana (7) d. Tim Skinski (8) 5-4
08/16/10 Joe Godfrey (26) d. Forrest Haskins (23) 6-2, 1-1
08/20/10 Joe Godfrey (23) d. Michael Samoska (16) 6-3, 6-1
08/21/10 Lionel Lim (22) d. James Pfadenhauer (25) 6-0, 6-4
08/24/10 John Scheuermann (4) d. Nicolas Stoiana (7) 6-1; 6-1
08/25/10 John Swain (11) d. Larry Washington (6) 6-2,6-4
08/29/10 Rich Terrasi (13) d. Tim Skinski (9) 6-3, 8-6 (Tiebreaker)
08/29/10 Paul Beauvais (15) d. Ron Eiseman (23) 6-1, 6-1
08/30/10 Jeff OSullivan (14) d. Jared Unterborn (19) 6-4, 7-6 (7-2)
08/29/10 Jon Norris (2) d. Ira Stone (5) 6-1,6-1
08/30/10 Jeff OSullivan (14) d. David Hill (20) 6-3, 6-1
09/01/10 Steve Bigham (3) d. Jack Ellis (11) 5-7,6-1,6-1
09/02/10 James Pfadenhauer (25) d. Matt Cleary (26) 6-3
09/18/10 Ray Weitekamp (12) d. Jared Unterborn (19) 6-0 6-3
2011 TennisLadderMAtch
Challenge Ladder Report
Issue #1 PLUS -- 26 members -- 8/30/2011
Valid challenge range: 8 positions
==========================================
==========================================
Pos Chg W-L PI Name
1 +20 7-0 0 Maria Lombardi
2 +21 7-2 0 Mary Stoiana
3 -2 3-3-1 0 Dana Manning
4 +22 2-2 0 Deb Birkins
5 +4 8-2 0 Susan Danielowski
6 +19 5-2 0 Sheila Christenson
7 -3 3-4 0 Fran Trelease
8 +11 6-1 0 Diane Cassidy
9 -4 4-5 0 Lisa Bigham
10 -4 2-5-1 0 Janet Zupkus
11 -9 1-7 0 Deborah Muller
12 -4 4-2 0 Dasha Qazimi
13 +1 5-4 0 Jan Wildman
14 +3 6-1 0 Julie Steers
15 -5 1-8-1 0 Roz Ross
16 -5 4-4 0 Caryn Mclean
17 -10 3-2 0 Cindy Turner
18 +2 5-3 0 Jackie Donnelly
19 -3 1-6-1 0 Virginia Abraham
20 +2 2-4 0 Isobel Moore
21 +3 1-3-1 0 Carole Walters
22 -7 1-8 0 Lisa Roush
23 -5 2-1 0 Kelly Bean
24 -11 2-4 0 Trish Brink
25 -22 1-2 0 Alicia Evans
26 -14 1-2-1 0 Molly Schleis

RESULTS
04/28/11 Lisa Roush (21) d. Virginia  Abraham (15) 5-1
04/28/11 Julie  Steers (22) d. Kelly Bean (17) 6-1, 6-0
04/29/11 Susan Danielowski (9) d. Jan Wildman (14) 6-4,6-4
04/30/11 Caryn Mclean (11) d. Molly  Schleis (12) 7-5, 3-1
04/30/11 Lisa Bigham (5) d. Roz Ross (10) 6-3,6-2
05/01/11 Diane Cassidy (19) d. Jackie  Donnelly (20) 8-2
05/02/11 Mary Stoiana (23) d. Trish Brink (13) 8-2
05/03/11 Maria Lombardi (21) d. Janet  Zupkus (6) injury default
05/05/11 Isobel Moore (22) d. Carole  Walters (24) 6:2, 1:6, 6:3
05/07/11 Dasha Qazimi (9) d. Cindy Turner (8) 6-2 , 6-3
05/01/11 Dana Manning (1) d. Deborah Muller (2) 6-4, 7-5
05/09/11 Julie  Steers (19) d. Isobel Moore (23) 6-4,6-2
05/12/11 Maria Lombardi (4) d. Susan Danielowski (10) 6-2 6-4
05/12/11 Lisa Bigham (3) d. Deborah Muller (2) 6-4, 6-2
05/14/11 Mary Stoiana (14) d. Roz Ross (11) 6-0
05/19/11 Jackie  Donnelly (22) d. Virginia  Abraham (18) 6-0
05/12/11 Alicia Evans (5) d. Janet  Zupkus (7) forfeit injury
05/21/11 Fran Trelease (6) d. Dana Manning (1) default
05/22/11 Dasha Qazimi (8) d. Sheila  Christenson (25) injury
05/22/11 Kelly Bean (21) d. Carole  Walters (24) 8-5
05/23/11 Jan Wildman (15) d. Diane Cassidy (22) 12/4
05/23/11 Caryn Mclean (12) d. Lisa Roush (17) DEFAULT
05/29/11 Fran Trelease (1) d. Lisa Bigham (3) 7-6 (6-2), 7-5
05/29/11 Kelly Bean (21) d. Virginia  Abraham (19) 8-5
06/01/11 Sheila  Christenson (25) d. Jackie  Donnelly (18) DEFAULT
06/01/11 Susan Danielowski (9) d. Alicia Evans (6) DEFAULT
06/01/11 Maria Lombardi (5) d. Deborah Muller (4) 6-2,6-1
06/02/11 Trish Brink (16) d. Carole  Walters (24) 6-2,6-2
06/02/11 Mary Stoiana (10) d. Jan Wildman (15) 6-3
06/03/11 Julie  Steers (20) d. Roz Ross (11) 7-5, 6-0
06/03/11 Dasha Qazimi (8) d. Roz Ross (11) 6-4,2-6,10-2
06/04/11 Isobel Moore (23) d. Lisa Roush (17) 6-2, 7-5
06/04/11 Diane Cassidy (22) d. Caryn Mclean (12) 8-4
06/04/11 Janet  Zupkus (7) TIE Dana Manning (2) 6-7, 3-3 ( 7-1)
06/12/11 Diane Cassidy (22) d. Roz Ross (11) 8-4
06/13/11 Molly  Schleis (14) d. Virginia  Abraham (19) 6-0, 4-1
06/15/11 Caryn Mclean (12) d. Isobel Moore (23) 7-6,6-0
06/15/11 Maria Lombardi (5) d. Lisa Bigham (3) 6-2,6-1
06/16/11 Susan Danielowski (9) d. Deborah Muller (4) 6-2,6-3
06/18/11 Jackie  Donnelly (18) d. Trish Brink (16) 8-7
06/18/11 Carole  Walters (24) d. Lisa Roush (17) 6-4, 5-7, 2-1
06/19/11 Sheila  Christenson (25) d. Molly  Schleis (14) 6-2, 4-0
06/19/11 Mary Stoiana (10) d. Janet  Zupkus (7) 6-1
06/20/11 Jan Wildman (15) d. Julie  Steers (20) 6-2,6-3
06/25/11 Dana Manning (2) d. Fran Trelease (1) 6-7 (3-6), 6-2, tiebreak
06/28/11 Maria Lombardi (5) d. Mary Stoiana (10) 6-1,6-2
06/29/11 Diane Cassidy (22) d. Alicia Evans (6) DEFAULT
06/30/11 Jackie  Donnelly (18) d. Isobel Moore (23) 3-6, 6-3, 7-4
06/30/11 Julie  Steers (20) d. Cindy Turner (13) 8-6, 6-3
06/30/11 Deb Birkins (26) d. Janet  Zupkus (7) 6-1, 6-3
07/01/11 Deborah Muller (4) d. Jan Wildman (15) DEFAULT
07/02/11 Dana Manning (2) d. Lisa Bigham (3) 6-4,6-1
07/03/11 Mary Stoiana (10) d. Deb Birkins (26) 7-5, 2-6, (10-6)
07/04/11 Susan Danielowski (9) d. Fran Trelease (1) DEFAULT
07/05/11 Trish Brink (21) d. Lisa Roush (24) 8-7; 6-1
07/05/11 Virginia  Abraham (26) TIE Carole  Walters (23) 5-5
07/05/11 Molly  Schleis (19) TIE Roz Ross (15) 
07/06/11 Sheila  Christenson (18) d. Caryn Mclean (16) 6-0,6-3
07/06/11 Mary Stoiana (9) d. Lisa Bigham (5) 6-1, 6-0
07/09/11 Susan Danielowski (2) d. Mary Stoiana (5) 6-1, 6-2
07/10/11 Janet  Zupkus (11) d. Roz Ross (15) 6-2, 6-0
07/11/11 Susan Danielowski (2) d. Fran Trelease (3) 6-2, 6-0
07/13/11 Susan Danielowski (2) d. Deborah Muller (7) 6-2, 6-4
07/15/11 Virginia  Abraham (26) d. Trish Brink (21) Default
07/15/11 Jan Wildman (13) d. Caryn Mclean (17) 6/1 6/3
07/17/11 Jackie  Donnelly (20) d. Lisa Roush (25) 5-7,  6-3 , 6-3
07/18/11 Jackie  Donnelly (20) d. Virginia  Abraham (21) 10 - 3
07/19/11 Diane Cassidy (8) d. Lisa Bigham (6) 8-4
07/20/11 Sheila  Christenson (16) d. Dasha Qazimi (12) 6-1   6-0
07/20/11 Maria Lombardi (4) d. Dana Manning (1) 6-2,6-2
07/20/11 Cindy Turner (18) d. Isobel Moore (23) 7-5
07/24/11 Susan Danielowski (3) d. Janet  Zupkus (10) 7-5
07/23/11 Mary Stoiana (5) d. Dana Manning (2) 6-0,6-1
07/26/11 Caryn Mclean (16) d. Virginia  Abraham (20) 6-0, 6-0
07/27/11 Dasha Qazimi (12) d. Jackie  Donnelly (19) 6-2  6-3
08/01/11 Maria Lombardi (1) d. Deb Birkins (9) 6-1, 6-4
08/02/11 Diane Cassidy (6) d. Sheila  Christenson (11) 8-4
08/04/11 Lisa Bigham (7) d. Jan Wildman (13) 6-4, 6-7, 10-4
08/05/11 Fran Trelease (5) d. Deborah Muller (8) Forfeit
08/04/11 Julie  Steers (14) d. Lisa Roush (24) 6-0, 6-4
08/05/11 Roz Ross (15) d. Trish Brink (21) default
08/01/11 Cindy Turner (17) d. Carole  Walters (23) default
08/13/11 Jan Wildman (13) d. Roz Ross (15) 6/0 6/0
08/13/11 Jan Wildman (13) d. Roz Ross (15) 6/0 6/0
08/19/11 Lisa Bigham (7) d. Dasha Qazimi (12) 6-1, 6-1
08/17/11 Janet  Zupkus (10) d. Deborah Muller (8) forfeit
08/22/11 Sheila  Christenson (11) d. Fran Trelease (5) 7-6
08/23/11 Deb Birkins (11) d. Susan Danielowski (4) 6-3, 5-7, 1-0 (12-10)
08/22/11 Julie  Steers (14) d. Caryn Mclean (16) 6-4, 6-2
08/16/11 Cindy Turner (17) d. Lisa Roush (22) 4-6, 6-1, 6-4
================================================================================
KEY:  Pos = current position    W = wins   L = losses
      Chg = change in position  PI = periods of inactivity

Challenge Ladder Report
Issue #0 PLUS  --  34 members  --  8/26/2011
Valid challenge range:  7 positions
=============================================
=============================================
Pos Chg  W-L  PI Name                
  1 +32  5-1   0 Ray Bucknam        
  2  +2  6-2   0 Nick Stoiana        
  3  -1  7-2   0 Jon  Norris         
  4 +24  5-1   0 Mike  Lombardi      
  5  -4  6-3   0 John Swain          
  6  +1  7-3   0 Carlos  Rodrigues     
  7  -2  4-7   0 John  Scheuermann   
  8  -5  4-3   0 Steve Bigham        
  9  +9  5-3   0 Jesper  Andreson    
 10  -4  4-5   0 Ira Stone               
 11  -1  5-3   0 Mario  Cipriano     
 12   0  3-5   0 Ray Weitekamp         
 13  -5  4-6   0 Larry  Washington   
 14  +3  2-6   0 Paul Beauvais       
 15  -2  2-3   0 Rich  Terrasi       
 16  +4  8-1   0 Patrick Mulsky      
 17  +5  8-3   0 Joseph Trudeau      
 18  -7  4-2   0 David  Hill         
 19  +8  6-3   0 Jim  Cummings       
 20 -11  1-8   0 Tim Skinski        
 21  -2  3-3   0 Forrest Haskins       
 22  -6  4-4   0 Michael  Samoska    
 23   0  4-5   0 James  Pfadenhauer  
 24 -10  1-7   0 Jeff OSullivan      
 25 -10  2-3   0 Gregg  Bell         
 26   0  3-5   0 Matt Cleary         
 27  +3  1-2   0 Brian  Swander      
 28  -7  3-3   0 Jared  Unterborn    
 29  +3  3-3   0 Arnaud Bourgeois    
 30  +4  2-3   0 John Birkins       
 31   0  2-4   0 AJ  Wasserstein     
 32  -8  2-6   0 Justin  Moore   
 33  -4 2-6-1  0 Chris  Sutton                
 34  -9 1-5-1  0 Jay  Carow         
================================================================================
RESULTS
04/22/11 David  Hill (11) d. Justin  Moore (24) 6-2,6-0
04/23/11 Nick Stoiana (4) d. Larry  Washington (8) 6-1,6-0
04/24/11 Jay  Carow (25) d. Matt Cleary (26) 7-5
04/26/11 Forrest Haskins (19) d. Jared  Unterborn (21) 6-0 6-2
04/26/11 Jon  Norris (2) d. Ira Stone (6) 6-1 6-1
04/30/11 Mario  Cipriano (10) d. Michael  Samoska (16) 6-1 6-3
05/01/11 Carlos  Rodrigues (7) d. Jeff OSullivan (14) 6-0,6-1
05/01/11 Larry  Washington (8) d. Brian  Swander (30) 4-6,7-5,6-0
05/01/11 Patrick Mulsky (20) d. AJ  Wasserstein (31) 6-4
05/01/11 Gregg  Bell (15) d. Paul Beauvais (17) 6-7,6-4, (7-1)
05/01/11 John Swain (1) d. Ray Weitekamp (12) 10-4
05/01/11 Steve Bigham (3) d. Tim Skinski (9) 6-2 6-1
05/02/11 Jesper  Andreson (18) d. Jim  Cummings (27) 6-3,6-1
05/02/11 James  Pfadenhauer  (23) d. Chris  Sutton (29) 6-3,6-1
05/07/11 Matt Cleary (26) d. Chris  Sutton (29) 8-7
05/07/11 Larry  Washington (8) d. Rich  Terrasi (13) 6-1,6-4
05/09/11 David  Hill (11) d. Forrest Haskins (19) 7-5,6-1
05/09/11 Jesper  Andreson (18) d. Michael  Samoska (16) 6-0,6-1
05/11/11 Nick Stoiana (4) d. John  Scheuermann (5) 6-4
05/11/11 John Swain (1) d. Jon  Norris (2) 7-6 7-6
05/13/11 Carlos  Rodrigues (7) d. Mike  Lombardi (28) 7-6 (5) ,1-6, 7-5
05/14/11 Tim Skinski (9) d. Gregg  Bell (15) 6-3, 3-6, (7-2)
05/14/11 Joseph Trudeau (22) d. Arnaud Bourgeois (32) 6-2,4-6,6-4
05/14/11 Ira Stone (6) d. Paul Beauvais (17) 6-3 6-2
05/22/11 Patrick Mulsky (20) d. Justin  Moore (24) 6-4, 6-1
05/22/11 Carlos  Rodrigues (7) d. Ray Weitekamp (12) 6-0, 6-0
05/22/11 Mario  Cipriano (10) d. Ray Weitekamp (12) 7-5,6-3
05/22/11 Steve Bigham (3) d. John  Scheuermann (5) 6-1,6-0
05/22/11 James  Pfadenhauer  (23) d. Jay  Carow (25) 8-5
05/25/11 Justin  Moore (24) d. Jay  Carow (25) 10-3
05/25/11 Carlos  Rodrigues (7) d. Jesper  Andreson (18) 6-3 6-3
05/25/11 Joseph Trudeau (22) d. Jim  Cummings (27) 7-6 (7-2), 7-5
05/25/11 Jeff OSullivan (14) d. Jared  Unterborn (21) 6-1 6-1
05/25/11 Nick Stoiana (4) d. Steve Bigham (3) 6-1,4-1 default
05/26/11 Larry  Washington (8) d. Tim Skinski (9) 4-6, 6-3, 6-1
05/26/11 Jon  Norris (2) d. Mario  Cipriano (10) 6-2 6-2
05/28/11 James  Pfadenhauer  (23) d. Chris  Sutton (29) 6-0, 7 - 6 (7 -1)
05/29/11 David  Hill (11) d. Ray Weitekamp (12) 6-3 2-6 6-1
05/29/11 Ira Stone (6) d. Jeff OSullivan (14) 6-1, 6-1
05/31/11 Michael  Samoska (16) d. Paul Beauvais (17) 6-3, 4-6, 7-5 TB
06/01/11 Jim  Cummings (27) d. AJ  Wasserstein (31) 6-1
06/04/11 John Swain (1) d. John  Scheuermann (5) 7-6,5-7 (7-5)
06/04/11 Jesper  Andreson (18) d. Joseph Trudeau (22) 6-2, 6-3
06/04/11 John  Scheuermann (5) d. Ira Stone (6) 7-5, 6-1
06/05/11 Joseph Trudeau (22) d. James  Pfadenhauer  (23) 1-6, 6-3, 6-2
06/05/11 Carlos  Rodrigues (7) d. Larry  Washington (8) 6-2, 6-1
06/01/11 Brian  Swander (30) d. James  Pfadenhauer  (23) default
06/01/11 Brian  Swander (23) d. Arnaud Bourgeois (32) 6-3,6-3
05/31/11 AJ  Wasserstein (31) d. Matt Cleary (27) 6-2
06/12/11 Paul Beauvais (18) d. Jeff OSullivan (14) 5-7, 6-3, 6-3
06/12/11 Jon  Norris (2) d. Carlos  Rodrigues (7) 6-0, 6-4
06/13/11 Jared  Unterborn (23) d. Matt Cleary (28) 7-5
06/14/11 Patrick Mulsky (22) d. AJ  Wasserstein (27) 7-5
06/15/11 Mike  Lombardi (30) d. Joseph Trudeau (20) 6-1,6-1
06/16/11 Ray Bucknam (33) d. John  Scheuermann (5) 6-4, 7-5
06/16/11 Rich  Terrasi (13) d. Michael  Samoska (17) 6-4, 6-3
06/18/11 John  Scheuermann (5) d. David  Hill (11) 6-3,6-2
06/19/11 Chris  Sutton (31) d. Jay  Carow (26) 6-4,6-3
06/19/11 Steve Bigham (4) d. Larry  Washington (8) 6-0, 6-4
06/19/11 Ira Stone (6) d. Tim Skinski (9) 6-1, 6-1
06/19/11 Jim  Cummings (29) d. James  Pfadenhauer  (24) 6-1, 6-2
06/20/11 John Swain (1) d. Nick Stoiana (3) 8-3
06/20/11 Jesper  Andreson (16) d. Mario  Cipriano (10) 2-6, 6-4, 6-1
06/21/11 Arnaud Bourgeois (33) d. Justin  Moore (28) 6-3 6-4
06/21/11 Rich  Terrasi (15) d. Tim Skinski (10) 6-3, 1-6, 7-4 TB
06/24/11 Ray Weitekamp (15) d. Gregg  Bell (18) 10-1
06/24/11 Mario  Cipriano (13) d. Larry  Washington (9) 6-0 6-2
06/25/11 Carlos  Rodrigues (8) d. Nick Stoiana (3) 6-1, 7-6 (7-3)
06/25/11 Patrick Mulsky (24) d. Paul Beauvais (16) 6-3 6-1
06/26/11 Arnaud Bourgeois (28) d. James  Pfadenhauer  (27) 6-4/6-2
06/26/11 Patrick Mulsky (16) d. AJ  Wasserstein (32) 6-2
06/26/11 Ray Bucknam (6) d. Jesper  Andreson (13) 6-4, 5-7, 6-2
06/28/11 Steve Bigham (5) d. Tim Skinski (12) 6-0, 6-0
06/29/11 Jim  Cummings (26) d. Jay  Carow (31) 6-0  6-1
06/29/11 Chris  Sutton (30) TIE Jay  Carow (31) 7-7
06/29/11 Mario  Cipriano (9) d. Rich  Terrasi (11) 7-5 6-0
06/29/11 John Swain (1) d. Ira Stone (8) 8-4
07/01/11 Patrick Mulsky (16) d. Tim Skinski (12) 6-0 4-6 6-1
07/02/11 Jon  Norris (2) d. John  Scheuermann (7) 6-1,4-6,6-1
07/01/11 Matt Cleary (33) d. Justin  Moore (29) 8-4
07/03/11 Joseph Trudeau (23) d. Chris  Sutton (31) 6-1, 6-4
07/01/11 John Swain (1) d. Ira Stone (8) 8-5
07/04/11 Joseph Trudeau (23) d. John Birkins (34) 7-6 (7-4), 6-3
07/04/11 Jim  Cummings (26) d. Michael  Samoska (20) 6-1  6-2
07/01/11 Forrest Haskins (22) d. Jeff OSullivan (18) 6-1,6-2
07/05/11 Mike  Lombardi (23) d. Ray Weitekamp (16) 
07/07/11 Mario  Cipriano (9) d. Joseph Trudeau (24) 7/6 10-8 6/2
07/09/11 Chris  Sutton (31) d. Matt Cleary (29) 8-3
07/10/11 Arnaud Bourgeois (27) d. Chris  Sutton (29) 6-1, 6-4
07/09/11 Jim  Cummings (22) d. Forrest Haskins (19) 2-6 6-3 3-0
07/11/11 Jesper  Andreson (14) d. John  Scheuermann (7) 6-2, 6-2
07/10/11 Jon  Norris (2) d. Ray Bucknam (6) 7-6 (7-5), 1-6, 6-3
07/13/11 Patrick Mulsky (13) d. Jeff OSullivan (21) 6-2 6-3
07/14/11 Jared  Unterborn (26) d. Jay  Carow (32) 6-2, 4-2
07/14/11 Joseph Trudeau (24) d. Gregg  Bell (22) 7-6 (7-3), 6-3
07/14/11 Michael  Samoska (24) d. Jeff OSullivan (21) 6-3,0-6,6-1
07/17/11 Carlos  Rodrigues (3) d. Ira Stone (9) 6-1, 6-3
07/17/11 Jon  Norris (2) d. Steve Bigham (5) 6-2,7-5
07/18/11 David  Hill (15) d. Tim Skinski (14) 4-6, 6-4, (7-5)
07/19/11 John Birkins (34) d. James  Pfadenhauer  (28) 6-4  6-1
07/09/11 Nick Stoiana (4) d. Carlos  Rodrigues (3) 6-3,6-2
07/19/11 Ray Weitekamp (17) d. Paul Beauvais (18) 6-1  6-1
07/20/11 Ray Bucknam (6) d. John Swain (1) 6-4, 6-3
07/20/11 Matt Cleary (31) d. Brian  Swander (25) default
07/25/11 Mike  Lombardi (16) d. Larry  Washington (11) 6-0,6-2
07/25/11 John  Scheuermann (8) d. Patrick Mulsky (14) 6-3, 6-1
07/27/11 Jon  Norris (3) d. John Swain (2) 6-2,6-3
07/28/11 Ray Weitekamp (17) d. Larry  Washington (12) 3-6 6-3 3-3
           Tiebreak 7-3
07/31/11 Ray Bucknam (1) d. Carlos  Rodrigues (5) 6-4, 6-7 (2-7), 6-4
07/31/11 Justin  Moore (32) d. Chris  Sutton (31) 1-6, 6-3, 6-2
07/31/11 Jim  Cummings (19) d. Tim Skinski (17) 6-4 6-3
08/03/11 Forrest Haskins (20) d. John Birkins (29) 6-3  /  6-3
08/05/11 Mike  Lombardi (11) d. Mario  Cipriano (10) 7-5,6-1
08/05/11 Joseph Trudeau (23) d. Jared  Unterborn (27) 6-0, 6-2
08/09/11 Gregg  Bell (24) d. Matt Cleary (25) 8-4
08/08/11 Paul Beauvais (19) d. Rich  Terrasi (14) 6-2, 4-6, 7-2
           (tiebreaker)
08/10/11 Michael  Samoska (21) d. Arnaud Bourgeois (28) 6-4, 7-6 (tie
           break)
08/10/11 James  Pfadenhauer  (30) d. Jeff OSullivan (22) 8-6 (pro set)
08/17/11 Ira Stone (9) d. Jim  Cummings (18) 6-0, 6-4
08/10/11 AJ  Wasserstein (34) d. Justin  Moore (31) 11-4
08/17/11 John  Scheuermann (8) d. Steve Bigham (6) 6-4, 6-7(4), 7-4
           tiebreak
08/21/11 Larry  Washington (13) d. Paul Beauvais (14) 6-0, 6-2
08/23/11 Michael  Samoska (21) d. John Birkins (30) 6-2, 4-6, 7-3 TB
08/18/11 Nick Stoiana (4) d. Jon  Norris (2) 6-2,2-6, 6-1
08/17/11 Mike  Lombardi (10) d. John Swain (4) default
08/24/11 Joseph Trudeau (24) d. David  Hill (17) 6-4, 6-4
08/25/11 Nick Stoiana (2) d. John  Scheuermann (7) 6-3,6-3
08/25/11 Ray Bucknam (1) d. Jesper  Andreson (9) Injury Default
08/26/11 Patrick Mulsky (16) d. Forrest Haskins (21) 6-1 6-4
08/26/11 John Birkins (30) d. Justin  Moore (32) 6-4  6-1